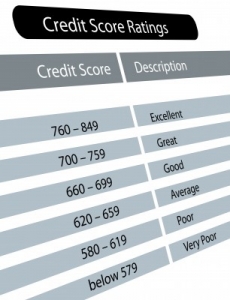 Most people are surprised to learn that their credit history has the ability to affect their auto insurance rates. Insurance companies use many different criteria when determining how much premium to charge in exchange for coverage, and credit history is one of those criteria. While this practice does vary by state, nearly all states utilize credit history in some way when calculating your auto insurance premium.
The reason that insurance companies use your credit history when calculating your premium is because research has shown that there is a direct correlation between a person's credit history and the likelihood that they will file an auto insurance claim. This means that individuals with good credit history will be less likely to be involved in a significant insurance loss. Nearly all auto insurance companies use age, driving history, type of vehicle, and where you live as factors to calculate your auto insurance premium, so fortunately for many individuals, credit history is not the only factor.
One of the interesting things about the practice of using credit history to calculate auto insurance premiums is that insurance companies don't actually need your permission to view your credit history according to the Federal Fair Credit-Reporting Act. While some of the credit history inquiries will look at your actual credit reports, others will simply obtain an "insurance credit score", which looks at other information in addition to credit history. An insurance credit score is calculated using statistical processes that predict the likelihood that a driver will experience higher than normal losses. These processes are similar to the process used by lenders to determine the likelihood that a potential borrower will repay a loan.
Your insurance credit score may vary slightly depending on the insurance company, which is due to different insurance companies utilizing different factors in addition to credit to calculate your auto insurance premium. If you feel that your credit score may have improved significantly since your auto insurance policy was rated, you should ask your insurance carrier to re-run your insurance credit score at your policy renewal to make sure that you are getting the best rate possible.