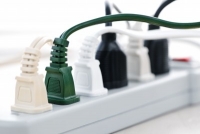 According to the NFPA (National Fire Protection Agency), electrical distribution equipment, such as extension cords, are one of the leading causes of fire-related deaths in the U.S. The most common cause of fires related to extension cords results from improper use and/or overloading, especially when cords have multiple outlets. Improper use of easily overloaded, unapproved extension cords can present a serious fire safety hazard at home and in the workplace. Only purchase and/or use UL (Underwriters Laboratories) approved power strips and electrical equipment.
Often times the number of available electrical outlets is inadequate in some rooms at home and in some buildings, especially older ones. To meet power supply needs, extension cords or surge protected power strips are often interconnected, or "daisy chained," to readily provide more outlets and/or to reach greater distances. Another common practice is a "mixed daisy chain," which is interconnecting extension cords and power strips. However, interconnecting these devices is a violation of both OSHA (Occupational Safety and Health Administration) and National Electric Code regulations.
Why Daisy Chains/Mixed Daisy Chains Are a Bad Idea:
Most power strips are approved for providing power to a maximum of 4 to 6 items; however, when multiple powers strips are interconnected, the one directly connected to the building outlet is often supplying power to far more than its approved number.

Overloaded circuits can result in a fire or can cause a circuit breaker to trip, which can cause computers and other equipment throughout the area to become deenergized.

Extension cords are sometimes used to energize power strips in locations far from outlets. This is something that you should never do because electrical resistance increases with increased cord length, interconnected cords increases the total resistance and resultant heat generation, which can result in a fire. This is why power strips don't typically have very long cords on them.

Most extension cords are only rated for a maximum of ten amps or 1200 watts. This phenomenon can be thought of as a "garden hose," only a limited amount of water/power can flow through it."

OSHA's regulations allow extension cords to be used only as temporary wiring for up to 90 days. Unfortunately, once in place, extension cords tend to become permanent wiring and present a fire hazard.
Some Alternatives to Daisy Chaining Power Strips:
Obtain a power strip that has a power cord of adequate length to reach an outlet. Note: while the lengths available typically range from three to 15 feet, lengths greater than 6 feet are only to be used for temporary purposes.

Desks and associated equipment may be moved so that they are closer to existing outlets.
Additional Guidelines for Power Strips:
Power strips within fume hoods are prohibited;
Use ground fault interruption (GFI) protection for equipment that is situated near water