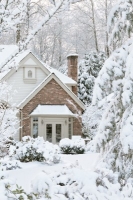 Cold weather can take a toll on both you and your home. When freezing weather, snow, and ice hit your area, you should be familiar with the precautions to take in order to protect your home. There are several areas around your home that require attention during cold weather.
Outside the Home
Be sure to disconnect and drain garden hoses.
Consider covering outside faucets with foam insulation.
Shut down the water supply to outside faucets and then turn on the faucet valves to allow drainage.
Shut down your sprinkler system and then blow compressed air through your lines in order to facilitate drainage.
Clean your gutters and downspouts before cold weather arrives to prevent ice from forming in them.
It's a good idea to apply an ice repellant or deicer to your steps, sidewalks, and driveway when freezing weather becomes likely.
Inside the Home
To prevent pipes from freezing, you can turn on kitchen and bath faucets so that they just barely drip.
If you have set any of your faucets to drip, be sure to turn them off after the weather has risen above freezing.
Close or cover the foundation vents under your house and any windows to a basement if you have one.
Close garage doors.
Wrap any exposed pipes (hot or cold water) under your house with foam insulation.
If the water line to your refrigerator runs under your house, be sure to set your icemaker so that it's making ice.
Be sure to also check the pipes that supply your washing machine in your laundry room.
If you discover frozen pipes that have not yet burst, you can thaw them with a hair dryer, heat lamp, etc.
When thawing pipes that have frozen, be sure keep the faucet turned on, so that water will be able to run through it as they thaw.
Ensure that you are familiar with the location of the water main shut-off valve, and make sure that you have a wrench or key that can be used to shut it off if necessary.
You can't change the weather, but what you can do is minimize the negative effects that it can have on your home, by implementing some of the above tips.