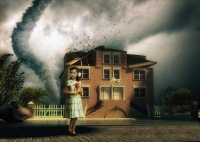 There's nothing like the thought of having to brave a tornado – just like the one that recently devastated the town of Moore, Oklahoma – to really get people thinking about what's important. In light of such horrible devastation, we start appreciating our families a little more. We send out our best to others in need. Most of all, we start thinking toward the future as far as how we can protect our homes and loved ones the best we can should we personally have to deal with a tornado or any other disaster.
Tragedies like these are exactly why having good, reliable home insurance is so important in this day and age. The only thing worse than losing your home to a freak occurrence like a tornado is losing your home without any sort of security plan in place to protect your investment. Make sure your family survives this tornado season (and every other to come) by looking into insurance today.
The Importance of "All-Risk" Policies
When you live in an area that is susceptible to natural disasters – such as the tornadoes of "Tornado Alley" or the earthquakes of Southern California – one of the most important things to look for in home insurance is coverage that protects you against every possible danger. It's important to realize that not every policy does, so be sure to ask your insurance agent about plans that protect against acts of God, as well as other potential dangers. You should also be sure to ask about other possible risk factors that you may not have considered.
Choose the Best Company
If you don't already have a home insurance policy in place or an insurance agent you trust to provide guidance on this matter, then make sure you choose a reliable insurance agency to work with. Here we provide not only the best rates in town, but our services are perfectly tailored to fit your specific requirements. Our specialized agents will always take the time to review every customer's coverage and will do their best to make sure clients are provided with the most comprehensive policy for their needs. Add to that a solid track record of great customer service, and you have a complete package made especially for you.
At the end of the day, you can't avoid it if your home is destined to ever be lost to a natural disaster, but you can protect your family's investment with solid home insurance. Sign up for your policy today!