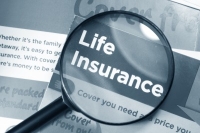 Life insurance is something that allows a spouse or other beneficiaries to be paid a sum of money, called the death benefit of an insurance policy, upon the policyholder's death. Life insurance can have many different uses, one of which is pay a death benefit to a policy's beneficiaries.
There are several different types of life insurance, each of which has different features and is designed for different purposes.

Term Life Insurance is designed to cover a person for a specific number of years, during which time the policyholder pays the same premium in exchange for coverage provided by the insurance policy. When the length of the term is over, the policyholder is usually placed into a different rating category, which usually means that the policy premium will increase slightly. Term policies strictly provide protection and do not build up any cash value and only provide a benefit upon a certain event, which is the death of the policyholder. Term life insurance policies are usually very inexpensive, but as mentioned do not build cash value.
Permanent Life Insurance is designed to provide the policyholder with coverage for his/her entire life. There are several different types such as whole life, universal life, and variable versions of the two. Permanent policies never have changes in the premium and can build up cash value. You can typically borrow against the cash value after it has accumulated a certain amount. Many permanent policies also carry the benefit of having an investment aspect to them that makes them a cash accumulation vehicle.
· Whole Life Policies – Whole life insurance are usually the most expensive of the types of life insurance policies, but the death benefit, rate of cash growth and premium amount are all guaranteed.
· Universal Life Policies – Universal life insurance are usually the most flexible of the types of life insurance policies. The thing that makes them flexible is that there is a regular schedule of payments and the interest rate at which the cash grows is not fixed. Universal life policies are less expensive than whole life policies, but are still more expensive than term policies.
· Variable Life Policies – Variable life insurance policies have cash value that grows at a variable rate of interest that is dependent on where the policyholder decides to invest the cash value portion of the policy. The policyholder can invest the cash value portion however he/she wants. Variable universal life policies tend to be better cash accumulation vehicles than variable whole live policies because whole life policies have fixed rates of cash growth.
While term and permanent life insurance policies have many differences, the thing that they have in common is that both term and permanent policies protect your family and loved ones in the event of your passing, by replacing some or all of your lost income and preventing financial hardship, which is the primary reason why you should buy life insurance.