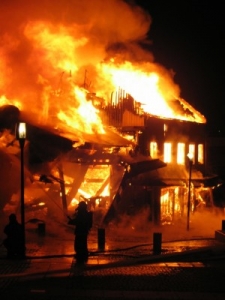 When it comes to purchasing insurance, just about everyone thinks to get auto insurance if they drive a vehicle, but there are things that people don't think to insure. While homeowner's insurance policies typically provide protection for the actual structure, they can also provide coverage for renters, for sporting equipment, expensive jewelry, expensive watches, silverware, firearms, currency, expensive electronics or computer equipment, outdoor furniture (grill, patio/lawn furniture, etc.), and watercraft and trailers. It is very important to know what is covered (and to what extent) and what is not covered.
Condominium Units
Many people who own condominiums don't realize that the commercial policy that covers the common property and structure doesn't cover their individual unit or contents. This means that if there is a loss covered under the commercial policy, and the exterior of the building is damaged, along with the contents and interior walls of the individual condominium unit, their will only be coverage for the actual building and the shared or common areas. Contents and interior walls and floors can be covered by a homeowner's policy designed for individual condominium units.
Renters
Even if you are renting and don't own your home, you can still purchase an insurance policy for your personal belongings and also to protect you against liability claims. If you have a renter's insurance policy and you suffer a loss or damage to your belongings caused by theft, vandalism, fire/smoke, or water damage, there will most likely be coverage for the loss (less the deductible and subject to the sub-limits that apply to certain types of belongings). Additionally, if someone is injured on your property and they attempt collect reimbursement for medical bills or attempt to sue you for negligence, your renter's policy will provide liability coverage up to your policy's limits.
Sub-Limits of Personal Property/Contents
Many people who have homeowner's insurance believe that if they suffer a loss or damage to their contents and belongings, that everything will simply be covered. Many people aren't familiar with their policy's sub-limits for personal property covered on their policy. Depending on the type of personal property, there will often be limits to the dollar amount of coverage for particular types of personal property. For example, since items such as jewelry, watches, and computer equipment can range so greatly in value, there will be limits to the amount of coverage provided per piece and per category. There might be a $1,000 per piece limit on jewelry and a $2,500 limit for the jewelry category. For computers there might be a $2,500 per computer limit and a $5,000 limit for the computer category. Because of such limits, you may want to request coverage increases for items such as jewelry or computers that you believe have values that exceed the limits provided by your policy.
There are many things that insurance does cover, but if you are unsure about what is covered and what is not covered under your policy, it is best to speak with a licensed insurance agent, who can explain your current coverage and help you obtain additional coverage if necessary.