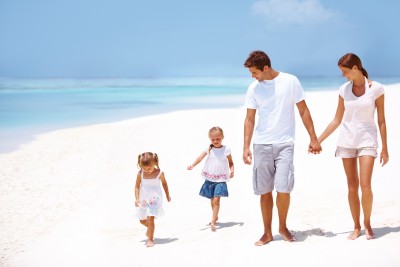 During the summer months, people begin to spend a lot more time outdoors because the weather is nice and there are so many fun things to do. Whether you are going to the beach, spending time at an outdoor pool, or just spending time outdoors, the sun and warm weather are things that you need to consider because they have the potential to adversely affect your health. Spending time in the sun without taking proper precautions can result in dehydration, sunburns, and even heat stroke.
Tips for spending time outdoors in the sun and in warm weather:
Prevent Sun Burns – Sunburns are not only painful, but can also damage your skin and prematurely age your skin and increase your risk of developing skin cancer. You can prevent sunburns by wearing sunscreen and limiting your sun exposure.

Wear Sunscreen – You should always wear sunscreen when you spend time outdoors. Sunscreen protects your skin from sunburns, skin damage, formation of wrinkles, and can reduce your risk of developing skin cancer. Select a sunscreen that blocks both UVA and UVB rays, and has a SPF (sun protection factor) of at least 15. It is best to wear a sunscreen that is SPF 30, but SPF 15 is much better than tanning lotions with SPF 5. Sunscreen doesn't last forever, so make sure to reapply it every 2-3 hours and even more often if you are sweating or swimming.

Wear Sun Glasses – Exposing your eyes to the sun without sunglasses subjects your eyes to harmful UV rays. If you fail to wear sunglasses and your eyes are damaged by the sun, you run the risk of developing eye problems later in life. Purchase sunglasses that specify 100% UV protection and wear them anytime you are outdoors or exposed to the sun.

Wear Lip Balm – Your lips can get sunburned too, which can result in painful, dry, chapped, and even cracked lips. To protect your lips against sunburn and drying, select a lip balm that contains sunscreen.
Stay Hydrated – You should ensure that you drink water often in sunny and warm weather even if you don't feel thirsty. By the time you are thirsty, you are most likely already somewhat dehydrated, which means your body has lost too much water. Symptoms of dehydration include thirst, feeling tired, and having dry lips and/or tongue. In general, you should drink approximately 64 ounces of water per day (8 8-ounce glasses of water). If at all possible, try to stay away from beverages that contain caffeine, are carbonated, or contain alcohol because these types of beverages cause your body to become dehydrated more quickly.

Prevent Heat Stroke – Heat stroke is a very serious condition that exists when your body gets overheated, but can no longer regulate its temperature and cool itself. Symptoms of heat stroke include fever, shortness of breath, vomiting, and dry skin. Heat stroke can actually lead to death if left untreated, so if you think your or someone else is experiencing heat stroke, you should immediately call 9-1-1 and/or go to the emergency room.
You can definitely spend time in the sun and be safe as long as you take measures to protect your skin, protect your eyes, stay hydrated, and limit your sun exposure.