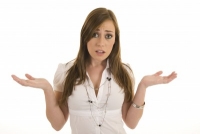 Having insurance to protect you from unforeseen misfortune is certainly a good idea, but is there is such a thing as going overboard with coverage? While having auto insurance typically protects you in the event that you are found to be at-fault in an auto accident, the cost of insurance can add up. This is why it's a good idea to figure out exactly how much insurance you actually need.
Auto insurance is required by state law, but the law only specifies the minimum amount that you are required to carry. Whatever amount you choose to insure above that is up to you. Health insurance pays a large portion of medical costs if you need medical attention following an auto accident. Life insurance provides your family with much needed income if you happen to be the primary source of income and you are killed in an auto accident. So if you think about it, auto insurance, health insurance, and life insurance can be very intertwined depending on your particular situation. Another instance is if you own a home.
While you can never be completely insured for anything that might happen regarding an auto accident, there is such a thing as overdoing it with coverage if your particular situation doesn't require higher coverage. An example of never being completely covered would be if you caused and accident that seriously injured or killed the passengers of a bus on the way to a sporting event that was carrying professional athletes. How do you put a price on what you just did and damaged? It doesn't really sound like $1,000,000 would really even cover it does it? But we have to realize that the chances of such an event occurring make insuring against it virtually unnecessary.
Events that could be more likely are being involved in an auto accident in which you are at-fault for totaling someone's Ferrari or Lamborghini. These are two cars that can cost over $300,000. Most people don't carry property damage limits that are more than $100,000, much less $300,000. Now imagine if you caused an accident where two of these cars were totaled because they were driving next to you on the way to a car show. That is now a $500,000 to $600,000 property damage issue. A multi-car accident with property damage is far more likely than taking out a bus full of professional athletes. Being involved in an auto accident where more than two people are seriously injured is also not unheard of, yet many people only carry bodily injury limits of $300,000 per accident or less.
This is one area where insurance agents and brokers can be very useful. They can take a look at your particular situation and help you make an educated decision regarding how much risk you would like to absorb and how much you would like to have covered by insurance. Insurance agents and brokers can also help you uncover gaps in your auto, home, life, and health insurance coverage of which you might not otherwise be aware. So do yourself a favor and speak with your agent or broker to determine if you are underinsured, over- insured, or just about right.