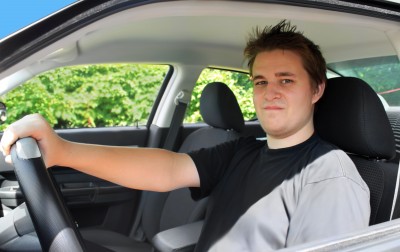 If you have recently added a teenager to your auto insurance policy or plan to soon, you are probably already aware that having a teenage driver on your policy causes your rates to increase significantly. While teenage drivers lack the experience that adults have related to driving, there are also some other factors that make them more of a risk to insure on the road.
Drivers that are not yet 25 years old are viewed by the insurance carrier as more of a risk to insure because they are viewed as less experienced and less responsible than drivers 25 years of age and older. This data is based on the fact that drivers ages 16 to 24 have a tendency to be involved in more accidents than drivers 25 years of age and older. Younger drivers are also more likely to get moving violations and traffic tickets than older drivers. It may sound like the insurance carriers are just picking on these younger drivers, but they are not. Additionally, many of the things that make younger drivers riskier drivers are not actually their fault.
The brains of younger drivers are not as developed as drivers that are 25 years of age and older, which is not to say that they are any less intelligent or lack the intellect of an older driver. Even though the brain is thought to be 80% developed during adolescence, the 20% of the brain that is not yet developed is the most important part related to driving because it controls motor skills, emotional maturity, and willingness to take risks. As drivers reach 20 years of age, the part of their brain that controls all of these things begins to develop, and by approximately age 25, has developed completely. The mechanisms in the part of the brain that make a person think twice about speeding, breaking traffic laws, and losing control of their vehicles, is virtually non-existent or poorly developed until a person reaches 25 years of age. This is why many of these immature driving behaviors are not completely the fault of the teenage driver.
Insurance carriers are well aware of these facts, which is why they charge higher rates for teenage drivers, who are bound to make mistakes simply because of their lack of experience and the way their brains are wired. While auto insurance rates on a policy that contain a teenage driver are higher than policies without a teenage driver, there are things that will bring the rates down, which include having the teenager complete an approved defensive driving course, ensuring that they teenager maintains a B average in school, and assigning them to a car on the policy that isn't fast or expensive to repair.