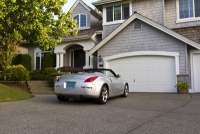 When you received your last auto insurance or home insurance renewal notice, you probably wondered why your premium was higher or lower than last time. Since auto insurance and home insurance rates can fluctuate throughout the year and over time, the following overview will provide you with some information regarding some of the causes.
Credit History – One cause of fluctuating rates that affects both auto and home insurance rates is your credit score. If your credit score has been on a negative decline, your auto and home insurance rates will reflect this in the form of slight increases in premiums. Additionally, if your credit score declines very quickly due to a bankruptcy, you will probably see a large increase in your premiums upon renewal.
Auto Insurance Rates
Auto insurance rates fluctuate frequently for a number of reasons. These reasons include your driving record, drivers on the policy, vehicles on the policy, state laws, and the accidents and crime in your area.
Driving Record – Your driving record is one major contributor to higher rates. While a traffic ticket or at-fault accident will result in a noticeable increase, a violation such as Driving under the Influence or Reckless Driving will result in a significant rate increase.
Drivers – One reason for increasing rates are adding additional drivers to your policy, especially younger or less experienced drivers.
Vehicles – Adding additional cars to your policy, especially more expensive vehicles or vehicles designated as high-performance, will typically result in a rate increase.
State Laws – Every few years or for certain reasons, states will sometimes allow insurers to raise their rates based on a variety of factors.
Areas with Higher Rates of Accidents or Crime – If you live in an area with higher or increasing rates of crime, your renewal premiums will reflect an increase to account for the claims that may be filed for losses due to theft, vandalism, etc. Additionally, areas that have a large number of accidents will typically have rates higher than areas with fewer accidents.
Home Insurance Rates
Many people don't know this, but home insurance rates are tied to the stock market, bond market, and the global economy in general. Because of this, home insurance rates fluctuate many times during each day. Additionally, home insurance companies sometimes change their rates a few times during the year in order to gain more clients by making rates more attractive or for other reasons.
Endorsements – In terms of coverage items that you may already have as part of your home insurance policy, an endorsement called "inflation guard" is one of the most significant causes of rate increases over time. Inflation guard protection is designed to ensure that the dollar amount of the coverage you have to replace your home increases with inflation. If you have the inflation guard endorsement, your premium will increase every year because your amount of coverage has to keep up with the rate of inflation.
Areas with Higher Crime Rates – If you live in an area with high or increasing rates of crime, you may notice that your home insurance renewal premium will be higher at renewal time.
Areas with Frequent Natural Disasters – Home insurance rates are also influenced by the number and size of claims that have been occurring in a particular area. If there have been a large number of fires or other cause of loss in a particular area recently, future premiums will reflect that.